Sandra Watson Rapley is a CWA Local 1037 Shop Steward and Technician at Motor Vehicle Commission in Hazlet. As a Technician, Sandra works with customers and dealers to produce titles and registrations, providing a necessary service to people in New Jersey.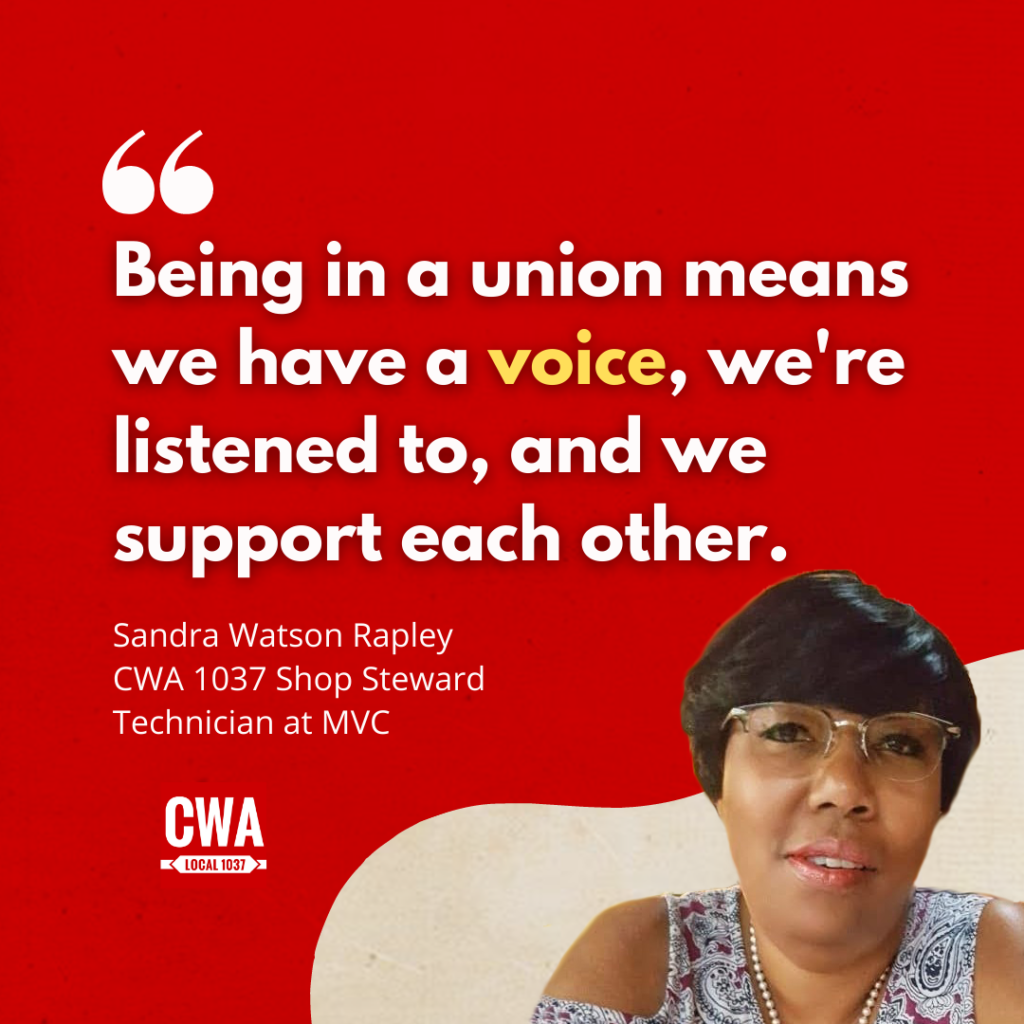 How long have you worked at Motor Vehicle?
[SWR] – I started at Motor Vehicle in July 2011 as a part-time employee. I was hired as a full-time employee in December 2015.
How long have you been a Shop Steward?
[SWR] – I have been a shop steward since January 2019
What kind of challenges do you and your colleagues face on the job? How has being in a union helped to work through them?
[SWR] – Our current challenge is navigating the Covid-19 rules which seem to change regularly and thus is very confusing for everyone. Our union has been very responsive to our questions and concerns, ensuring that each location was Covid-ready before we returned to work in July 2020. They also helped to ensure that we had only one person at our reception desk because the distance between two people was less than 6 feet. In addition, when there is a staff and management issue the union has been very helpful with providing the guidance and the support needed.
Can you talk to us about the importance of the work our members at Motor Vehicle provide?
[SWR] – As a public employee, we provide necessary services to the community. If we didn't renew the registrations, for example, people would get tickets.
What have you learned from your time as a Shop Steward, both as a communicator and in the relationship with your coworkers?
[SWR] – I have learned that we should have had a shop steward a long time ago because some of the things our supervisors/manager at the time were doing were not in accordance with the rules. Basically, they were making things up as they went along. My coworkers see me as someone who can help them understand the rules, help them if they have issues with management, policies, and procedures.
What have you learned from your experience as a Shop Steward?
[SWR] – It's rewarding. I have learned a lot about policies and procedures. It adds another dimension to my day's work.
How has being in a union made a difference at the workplace?
[SWR] – Being in a union means we have a voice, we are listened to, and we support each other.